Perimeter Heating
PowerKon + F
Free-standing convector for use with low water temperatures.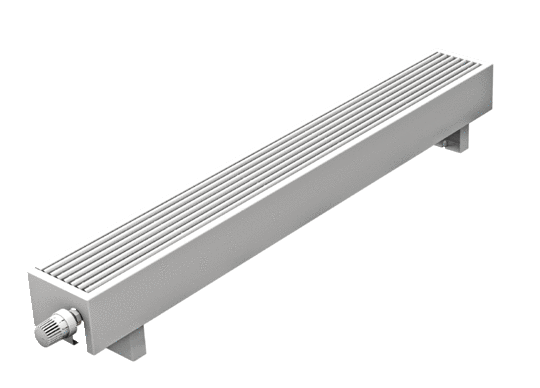 Overview
The minimal water content in the PowerKon + F ensures fast warm-up times and precise controllability. For effective heating from compact dimensions.
With its compact construction, with shallow depth, slim lines and restrained design, the PowerKon + F is perfect for unobtrusive installation under external façades.
PowerKon + F stands out on account of its high-quality workmanship. The sheet steel casings have a phosphated and powder coated finish to provide corrosion protection and durability.
Thanks to the quick-release mechanism on the PowerKon + F, the casing, made from a single piece of sheet steel, can be installed very quickly, without the need for screws.
The proven PowerKon copper/aluminium heat exchanger has corrugated fins for an even larger contact surface, for even higher heat outputs from minimal dimensions. Also suitable for low temperature operation.
Apart from the standard RAL 9016 traffic white finish, the casing is also available in other colours on request. As a free-standing convector, the PowerKon + F is versatile to use.
Individual made-to-fit units for all circumstances. Regardless of whether you need continuous casings, mitred cornes, etc.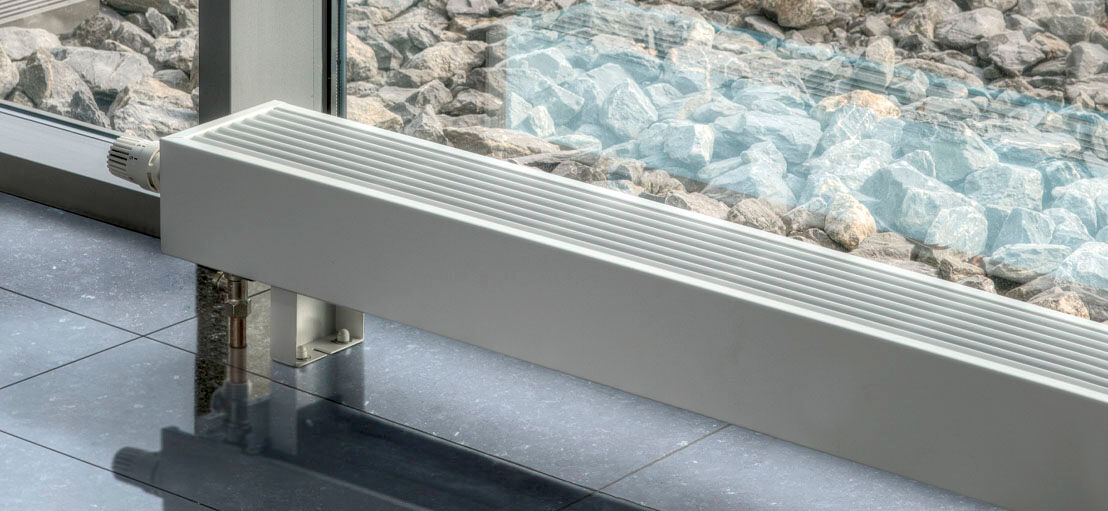 High-output convector, optimised for low water temperatures
Dimensional stability through multiple shaping of the fins
Copper/aluminium heat exchanger with corrugated fins for a larger contact surface
Heat outputs tested to EN 442
Fast and simple fitting of the casing
Linear grille
Streamlined C-profile
Made of sheet steel
Range of bracket designs to choose from: for finished floors, unfinished floors, wall-mounting
Downloads
Declarations/Certificates
TÜV Certificate ISO 9001:2008
PDF (120 kB)
Leaflets/Flyers
Color Selection
PDF (256 kB)
BIM data (Building Information Modeling)
Kampmann Group BIM data
()
Technical catalogues
PowerKon + F/+ W convectors
PDF (3.3 MB)
Installation manuals
PowerKon + F convectors
PDF (2.2 MB)