Overview
The KaDeck's designer panel blends discreetly and elegantly into your own person interior design. "Industry standard" hinges and locking mechanisms ensure the unit's long service life.
The white finish of the KaDeck blends wonderfully into most interiors. Other colours are also available with (almost) no limits to your choice of colour.
Hygienically optimized air conditioning is guaranteed for years to come thanks to the internal construction of the KaDeck and its maintenance concept that conforms to VDI 6022.
Thanks to continuously variable EC fans, you can focus on the important matters without disturbing noises and unpleasant draughts. For an interior environment you can feel good in.
Make your in-house facilities manager your friend: almost the entire bottom of the unit doubles as a maintenance access panel. Your technician has access to the air inlet filter and inside of the unit in seconds. No further on-site access panels are required.
Heat Pump Ready
This product is suitable for use with a heat pump or other low temperature system. Reduce your energy requirements, operating costs and emissions with our Heat Pump ready range of products. And make you and your customers less dependent on fossil fuels.
We have appropriate heat pump solutions for many applications, from industrial sheds, office buildings, hotels to private homes.
→ Discover more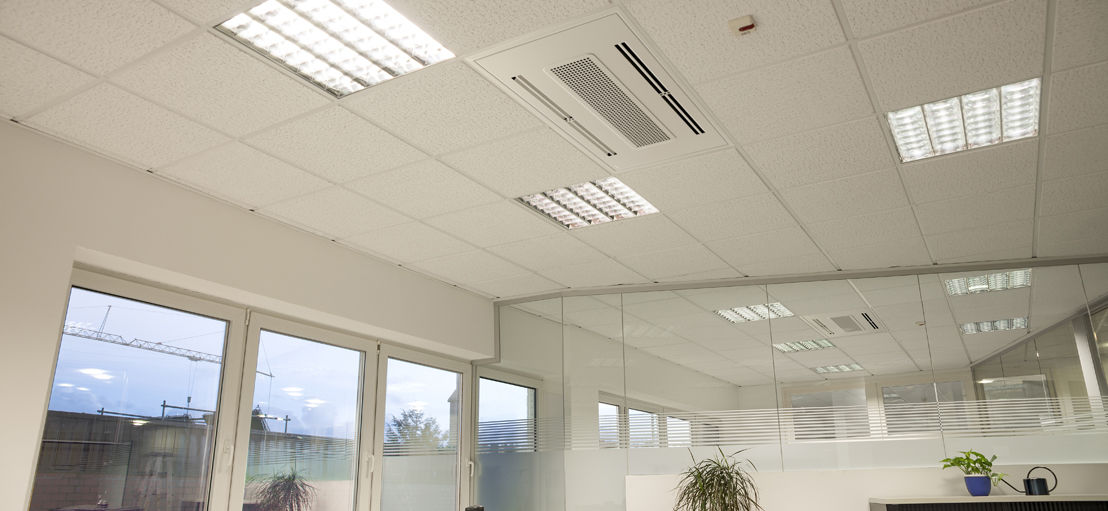 Either suitable for 600 x 600 or 625 x 625 mm ceiling grid
RAL 9016 (traffic white) ceiling panel and frame, customised colour on request
Ceiling panel can be opened without tools, industrial-quality hinges and closures for an extremely long service life
Internal cleanable ISO Coarse air filter to protect the internal components from dust
Rigidity and strength, thanks to galvanised steel frame
Thermal and acoustic isolation by foamed EPP carcass free of heat bridges
Organic internal forms for ease of cleaning
Complete with ceiling panel that can be opened without the need for tools and condensate tray
No need for additional service hatches
All components can be accessed once the condensate tray has been removed.
Easy cleaning of all surfaces along which air flows
Valve installation (adjustable 2-way or differential pressure-independent) within the housing
Condensate tray can be removed without tools for cleaning and maintenance
Made of EPP for thermal and acoustic isolation
Section that carries condensate consists of an ABS plastic tray resistant to disinfectant
Gradient on all sides for fast and residue-free condensate drainage from the section through which air flows
Up to 120 m³/h primary air can be introduced via the KaDeck
Two nozzles can be connected on each head side
Easy removal of the EPP closures, insertion of optional 80 mm connection spigots for primary air supply on site
Primary air is directed through the heat exchanger for temperature control
Noise-optimised, smooth-running three-wire, continuously variable and energy-saving EC motor
Tangential roller sitting in CFD aerodynamically optimised EPP/aluminium contour
Utility model-protected bypass motor cooling to prevent the build-up of heat in heating mode to increase the motor's service life by 40%
Unit design and component selection optimised for ease of assembly and operation
Total unit weight reduced to 60% compared to a steel sheet design, for ceiling installation gentle on the back
EPP connection areas, with supply/return, primary air labelled
The electrical connection is easily accessible on one side; all components are pre-wired
The cables are firmly inserted via pre-assembled PG screw connections and routed in the KaDeck along predefined cable paths
Includes the following in the wet cooling configuration scope of delivery
Compact design, without separate float, prevents possible leaks at connections.
Extremely smooth-running pump, sound pressure level below 20 dB(A), speed and flow rate adapts to the condensate level in the pump sump
The condensate level is determined by a capacitive sensor, preventing the float switch from sticking
Maximum delivery height up to 6 m
Alarm contact in the event of a malfunction or too high a water level in the condensate tray
Downloads
Declarations/Certificates
TÜV Certificate ISO 9001:2008
PDF (120 kB)
Leaflets/Flyers
Color Selection
PDF (256 kB)
BIM data (Building Information Modeling)
Kampmann Group BIM data
()
Technical catalogues
KaDeck fan coils (FCU)
PDF (10.9 MB)
Cross-product information
Installation manuals
KaDeck fan coils (FCU)
PDF (7.8 MB)
KaDeck, brief instructions
PDF (1.8 MB)
CAD-Drawings
Fan Coil KaDeck Zwischendecke, Luftauslass einseitig und zweiseitig, Abmessungen
PDF (1.7 MB)
Fan Coil KaDeck Zwischendecke, Luftauslass einseitig und zweiseitig, Abmessungen
DWG (1.6 MB)