Trench Technology
Katherm HK
EC tangential fan-assisted convection for heating or cooling.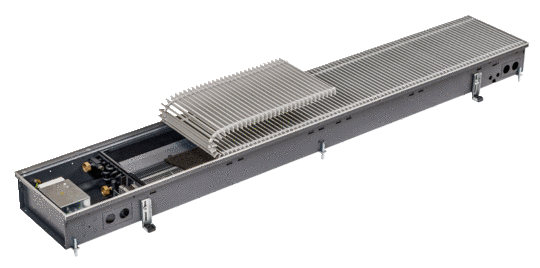 Overview
State-of-the-art EC tangential fans with low power consumption ensure energy-saving operation combined with low sound levels. The fixing system in the floor trench, perfected over many years, which also incorporates sound decoupling ensures that the unit can be quickly and easily removed for cleaning and maintenance.
It's unique! The Katherm HK can be cleaned simply and easily, thanks to its well thought-out design in accordance with the requirements of the Hygiene Directive VDI 6022. The Katherm HK is hygienically flawless, thanks to improved condensate discharge in cooling mode, coupled with the ease of cleaning of the condensate tray.
Electric heating with a continuously variably controllable electric heating coil is possible in addition to water-based heating and cooling with the 2-pipe Katherm HK E version with an integrated electric heating coil. Compared to a pure 2-pipe system, the room user has the option of individually determining their room climate independently of the heating or cooling system setting. The use of Katherm HK E offers benefits compared to a traditional 4-pipe system, which also have a positive impact on the sustainability rating of a building.
Available in a range of different trench widths and heights, the Katherm HK delivers an optimised output range for demand-led heating and cooling from the floor. With practical length increments and trench widths, the Katherm HK is the solution for the most diverse building requirements.
We have the right grille for every installation situation – even with curves, angled and slopes.
In addition to our metallic optiline grilles made of aluminium, brass and stainless steel, we also have decorative wood grilles.
The Katherm HK has been further developed in the Kampmann Research & Development Center. With revised components, like the tangential fan, high-output coil and the modified design chassis, the new Katherm HK provides optimised air flow for even higher performance.
Katherm HK trench units can be equipped as standard with a 0-10V BMS interface for Fan speed control. Units can be supplied individually or in banks with a choice of Class 2 Transformers. All units have been designed specifically for the North American market and are therefore fully certified to UL/cUL 1995 (CSA C22.2).
Energy-saving, with flow-optimised impellers, cascaded arrangement as a continuous fan belt
Easily removeable, plug & play fan
Even air flow through convector
Robust and whisper-quiet motor design
Continuously variable control via external 0-10 V signal
With anti-torsion device
Made of the proven copper/aluminium combination, optimised for air flow and output
Optionally available with projecting connections
Painted graphite-grey
Act as a finger guard for the tangential fan, filter frame, airflow baffle, grille seat and reinforcing stay to strengthen the trench
For safe discharge of the condensate and simultaneous air guidance
Specifically designed for simple cleaning in line with the hygienic standards
Can be removed to the room side for ease of cleaning
Condensate pump (accessory) to drain condensate, if needed
Easy removal of tangential fan without tool
Novl coupling/cone pin system
Simultaneous sound decoupling
For fast and safe wiring, saves installation time
In a 2-pipe version for additional electric heating
With integral, continuously variably controllable electric heating coil
With built-in safety chain consisting of 2 safety temperature switches
Sustainable 4-pipe system solution at the cost of a 2-pipe system
For inducing preconditioned supply air
Primary air volume can be adjusted
Max. air volume per module = 60 m³/h (35 cfm)
Amount of modules selectable depending on trench length
Change in trench dimensions: trench width + 20 mm (0.79"); trench height + 35 mm (1.38")
Downloads
Declarations/Certificates
TÜV Certificate ISO 9001:2008
PDF (133 kB)
ETL Authorisation to mark Katherm and Baseboard HK and QK
PDF (150 kB)
Cross-product information
Katherm Range of models
PDF (1.4 MB)
Overview Katherm supply air versions
PDF (4.1 MB)
Installation manuals
Katherm HK trench heating
PDF (5.5 MB)
Katherm HK, brief instructions
PDF (3.8 MB)