Trench Technology
Katherm NK
Natural convection.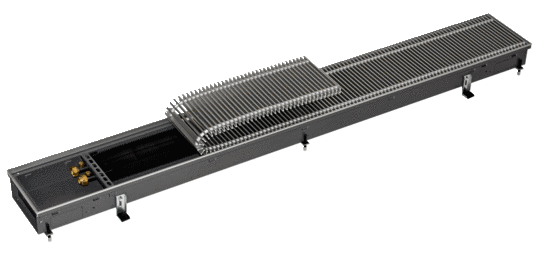 Overview
Installation time reduced with Eurokonus valve connections for use with optional NPT valve bodies. If valves are not required inside the units then NPT adaptors will be supplied. Other standard features, such as height adjustment feet and load-bearing raised floor brackets, reduce installation time and thus also costs.
Design our standard trenches with short delivery times. You can also rely on our support for your individual project to find the respective solution.
The matching frame for every grille finish - all possible for the Katherm NK. The icing on the cake for a perfect look.
Your customer gets the thing you appreciate about Kampmann: individual made-to-fit trenches for all façades. Regardless of whether you need mitred corners, curved trenches, column cutouts etc. Our trenches are also available for floor-mounting or semi-recessed.
Design can be this easy! Especially if you can choose between five widths, four heights and 22 lengths, as with the NK range.
You are investing in future-proof quality with the Katherm NK. It works efficiently, even with low water temperatures, keeping operating costs to a permanently low level.
We have the right grille for every installation situation – even with curves, angled and slopes.
In addition to our metallic optiline grilles made of aluminium, brass and stainless steel, we also have decorative wood grilles.
For stable installation within screeded and raised floors (standard)
To allow continuous grille appearance
As visual cover and protection against ingress of dirt
For stable installation within screeded and raised floors
For ease of connection, saves installation time
Downloads
Declarations/Certificates
TÜV Certificate ISO 9001:2008
PDF (133 kB)
Cross-product information
Katherm Range of models
PDF (1.4 MB)
Overview Katherm supply air versions
PDF (4.1 MB)
Technical catalogues
Katherm NK trench heating
PDF (12.4 MB)
Installation plans
Katherm NK, electromechanical control
PDF (1 MB)
Installation manuals
Katherm NK trench heating
PDF (3.3 MB)