Trench Technology
Katherm QE
Fan-assisted trench heating with EC technology and electrical element.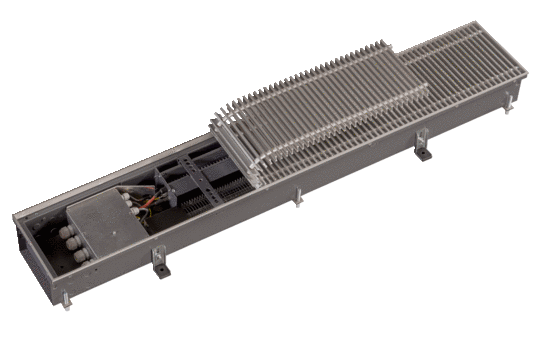 Overview
With an electric heating element, the Katherm QE offers the ideal solution without the need to connect to a water supply. The high heat output is supported by the fan.
ECM tangential fans enable easily controllable high heat output yet energy saving operation with ultra low noise levels – suitable for commercial and residential applications alike.
The integrated safety thermostats and temperature cut-outs enable low surface temperatures – giving you added safety.
One width. One height. Three lengths – there's no need for more. Every trench has been optimised for efficiency and noise emission.
Integral control circuitry to enable continuously variable control via room thermostat or BMS. including 2-stage safety cut-out in the event of improper use. Certified to UL 2021 / CSA 22.2 No. 46
Harmonious look without a breakin style – a matching frame for every roll-up grille.
Your customers get what you appreciate about Kampmann: individual made-to-measure trenches to fit all façades. Regardless of whether you need mitred corners, curved trenches, column recesses etc. Our trenches are also available for floor-mounting or semi-recessed.
We have the right grille for every installation situation – even incorporating curves, angles and slopes.
We supply decorative aluminium, brass and stainless steel roll-up grilles.
Protection class IP 65
Heating element factory-wired into control unit
As visual protection of the connections
With integral ventilation slot
Acts as a touch guard, factory-fitted
The grille can only be removed using a tool
With integral grille as a safety guard for an even airflow through the heating element, providing high heat outputs with low noise emissions continuously variable speed control via an external 0-10 V signal motor monitoring with internal fault processing
Downloads
Declarations/Certificates
TÜV Certificate ISO 9001:2008
PDF (120 kB)
Cross-product information
Katherm Range of models
PDF (1.4 MB)
Installation manuals
Katherm QE trench heating
PDF (2.4 MB)