Heating and air conditioning units
for heat pumps
Heat Pump ready
Regardless of why you are interested in heat pump solutions, whether to reduce your operating costs or for reasons of sustainability, they contribute to our target of decarbonising our energy supply.
Let us present one of the widest product ranges of units suitable for use with heat pumps – "Heat Pump ready" as it were. Choose our products that carry this label for your future-proofed heating and cooling system.
Low temperature units for every application
What it comes down to:
Simply explained: The heat pump system
The basic idea is not new: a heat generator supplies warm water to room units, which then use the warm water to control the temperature in the rooms. Heat pumps are replacing the oil or gas boiler (heat generator) previously used, with fan-assisted convectors now installed where panel radiators were once fitted. Fan-assisted units rapidly achieve 3-4 times the output of conventional radiators particularly when operated with low system temperatures.
Incidentally, we are more than happy to assist skilled tradesmen with all questions regarding hydraulics, among other things with our hydraulic box, which will significantly simplify installation.
That's why it has to be low temperature
In almost all heating systems, the temperature of the heating water is crucial for their efficient operation. A traditional gas boiler supplies hot water at approximately 55 °C to panel radiators. This is referred to as a high-temperature system. The exact temperature of this water depends on the combination of heat generator (gas boiler) and room unit (radiator) selected. When you use a heat pump with suitable room units in place of a gas heating system, this is what is known as a low-temperature system operated with water at around 35 °C.
The following is true: high water temperatures are less efficient than low water temperatures. This increases the energy requirement and heating costs and, of course, also greenhouse gas emissions.
Certain heat pumps can reach temperatures above 55 °C, but always at the expense of efficiency. The use of system temperatures of 35 °C instead of 55 °C quickly makes systems 25-35% more efficient and therefore more economical. So look out for our "Heat Pump ready" label when selecting suitable heat pump products.
Which way is Heat Pump City?
In an environment where the era of fossil heating is over, are you still looking for your way? We'll be happy to give you some guidance. Fortunately, Heat Pump City is not all that different. Because in heat pump systems, although the heat generator is new, planners and craftsmen have access to one of the largest product ranges for room units. Always suitable for every application.
Welcome to the age of low temperature.
Welcome to Heat Pump City!
Heat pump units for office buildings
Many companies are suffering from rising energy prices. Heat pumps combined with decentralised units for the temperature control of offices are a sensible departure from dependence on fossil fuels.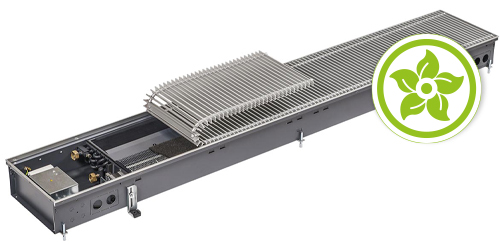 Designed for use in front of floor-to-ceiling windows, fan-assisted trench convector systems comfortably air-condition offices, meeting rooms or foyers without obstructing the view.
Their intelligent air flow protects the room from radiated cold in winter and radiated heat in summer.
Fully enclosed within the floor, all you see is the flush cover grille.
🠖 Katherm HK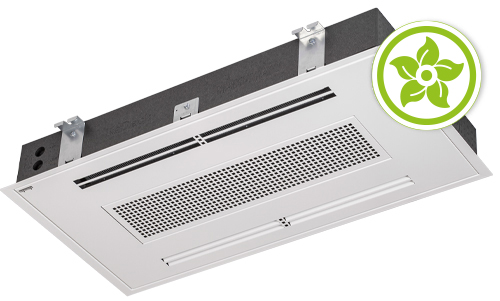 The ceiling unit is concealed within the ceiling: all that is visible is the minimalist front cover in the suspended ceiling. The air intake and outlet are incorporated within this cover and are designed to prevent draughts even in low-ceilinged rooms.
KaDeck is the slimmest ceiling-mounted unit of its kind with a depth of only 16 cm.
🠖 Fan Coil KaDeck
Heat pump units for hotels
Nowadays, hotel guests expect their rooms to be at a pleasant temperature, and also cooled in summer.
The operator of the hotel wants low operating costs. Heat pumps are perfect to meet both requirements and are much more sustainable than so-called split units, in which large volumes of climate-harming, toxic or flammable refrigerant circulates through the building. Heat pumps only carry temperature-controlled water into the rooms, where it is treated by so-called fan coils to produce a pleasant room climate.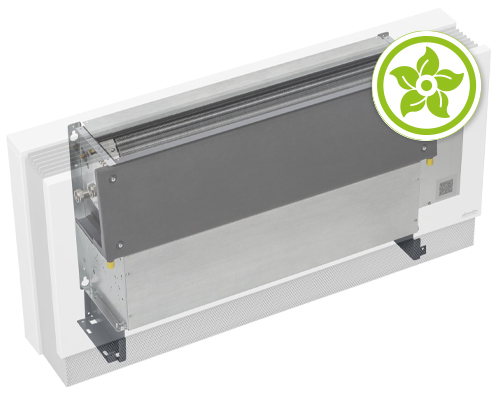 Kampmann Venkons are the quietest fan coils of their kind. This is especially important in hotel rooms to ensure that guests enjoy a restful night's sleep.
Venkons heat and cool rooms by moving temperature-controlled air along the ceiling of the room before allowing it to drop at an imperceptible speed. This is totally comfortable and can be individually controlled by the guest within a defined efficiency range.
🠖 Fan Coil Venkon
Heat pump units for the home
The myth that a heat pump in your own home only works with underfloor heating is long out of date. Fan-assisted heaters, also known as heat pump heaters or low-temperature heaters, represent a convenient solution for use in the home.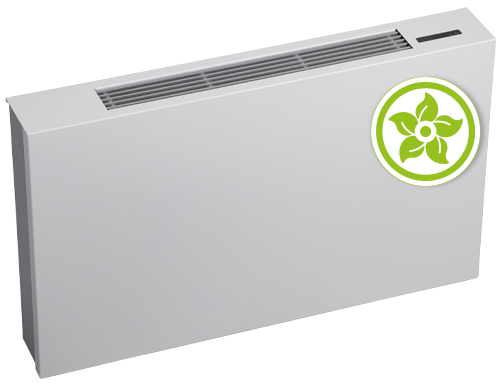 PowerKon LT
Our PowerKon LT is just such a unit. It is ideally suited for use in new buildings.
However, it is also likely to be very popular, especially in existing houses. The PowerKon LT makes it easy to switch from an oil or gas heating system to a heat pump. And even with a cooling function, depending on the pipework and individual comfort requirements.
Cooling with heat pumps
Almost as an after-thought, you also benefit from a heat pump's cooling function.
Many heat pumps already incorporate this functionality. You can therefore supply the appropriate room units with hot water, but also with cold water, which you can use to cool your building.
There may be a need for further insulation of the pipes and the removal of condensate water depending on the cooling output you require. So why not consciously design in a cooling function from the get-go. Then you're sure to have a lot of pleasure with this added comfort.